The SnapperGPS Receiver
The SnapperGPS receiver is a small, low-cost, and low-power GNSS receiver for non-real-time wildlife tracking. It employs the snapshot GNSS technology, which offloads the computationally expensive data processing to the cloud, and:
Can operate for more than a year,
Needs only 12 ms of signal reception for a fix,
Employs multiple satellite systems for improved reliability (GPS, Galileo, and BeiDou),
Achieves a median real-world tracking accuracy of about 12 m (before smoothing),
Measures the temperature in addition,
Is configured via USB in your browser without the need to install a driver or an app, and
Is certified open-source hardware.

Get/build your SnapperGPS receiver.
Configure your SnapperGPS receiver in your browser for your deployment.
Deploy your SnapperGPS receiver.
The SnapperGPS receiver captures GNSS snapshots according to your configuration.
Recover your SnapperGPS receiver.
Upload the data from your SnapperGPS receiver to our server.
Download the track of your surveilled animal.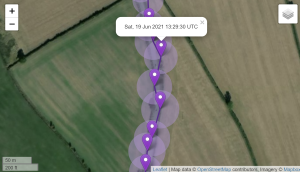 Troubleshooting
Still having issues? Start a discussion or create an issue
on Github
.
Publications
2023
Jonas Beuchert, Amanda Matthes, and Alex Rogers. 2023. SnapperGPS: Open Hardware for Energy-Efficient, Low-Cost Wildlife Location Tracking with Snapshot GNSS. In Journal of Open Hardware, 7(1): 2, Pages 1–13. https://doi.org/10.5334/joh.48.
2022
2021
Amanda Matthes and Jonas Beuchert. 2021. Can we locate endangered sea turtles using twelve milliseconds of noisy satellite signals? In Inspired Research: News from the Department of Computer Science, University of Oxford. Oxford, UK, Issue 19 (Winter 2021), Pages 20-21. https://www.cs.ox.ac.uk/innovation/inspiredresearch/InspiredResearch-winter2021.pdf.
Jonas Beuchert and Alex Rogers. 2021. SnapperGPS: Algorithms for Energy-Efficient Low-Cost Location Estimation Using GNSS Signal Snapshots. In SenSys '21: ACM Conference on Embedded Networked Sensor Systems, November, 2021, Coimbra, Portugal. ACM, New York, NY, USA, Pages 165-177. https://doi.org/10.1145/3485730.3485931.
Jonas Beuchert and Alex Rogers. 2021. SnapperGPS: Collection of GNSS Signal Snapshots. University of Oxford, Oxford, UK. https://doi.org/10.5287/bodleian:eXrp1xydM.
The Team
SnapperGPS is developed by
Jonas Beuchert
,
Amanda Matthes
, and
Alex Rogers
in the Department of Computer Science of the University of Oxford. Contact us via
theteam@snappergps.info
.
Jonas Beuchert and Amanda Matthes are funded by the EPSRC Centre for Doctoral Training in Autonomous Intelligent Machines and Systems (DFT00350-DF03.01, DFT00350-DF03.05) and develop SnapperGPS as part of their doctoral studies. The implementation of SnapperGPS was co-funded by an EPSRC IAA Technology Fund (D4D00010-BL14).